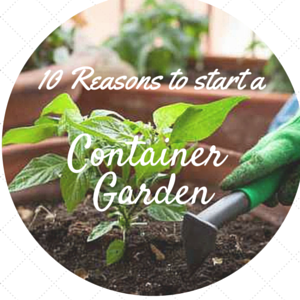 Top 10 Reasons to Grow Your Own Food in a Container Garden
Wow! What a fun summer it's been. Now that the summer crops are fading, it's time to begin thinking about fall crops (yes, already).
The great thing about fall crops is that you don't need a large garden. In fact, just some containers will do.
Here are our Top 10 reasons why we think growing food in containers is THE BEST way to go!
Containers are portable - When you grow food in containers it's easy to move your containers in and out of direct sunlight.

Steady Quantity - While containers may not be ideal for those that grow large quantities for canning, it's perfect for daily consumption. In fact, one Earthbox® full of tomatoes and basil can feed a family for weeks (and weeks).

Containers can be Inexpensive - Containers don't need to be expensive. 5 gallon buckets, milk jugs, burlap sack bags, and even grandma's hanging flower basket work great.

Uses less water - By only watering your container and not an entire garden bed, you save water.

Less Labor - No plowing, less bending over, and a smaller space to weed. That makes this ideal for the busy gardener.

No Pests - Your plants are much less likely to be eaten by pesky groundhogs, deer, and rabbits if the containers are on your patio and deck. And it's much easier to cover containers to prevent critters than to cover an entire garden bed.

Kid Friendly - There are so many lessons that can be learned by growing plants. Showing the plant cycle from seed to harvest is an incredible experience for kids. It's also the best opportunity to teach your kids about the "birds and the bees" in a less awkward setting.

Quicker to adjust - Some plants like more acidic soil conditions. Some plants need more nutrients and compost. It's much easier to adjust pH levels and cater to each plants' needs when it has its own container.

Anti-Stress benefits - Many now realize that gardening and being around living plants helps in reducing pain, improving attention, lessens stress, and lessens agitation. The satisfaction from growing your own food to the amazing smells of fresh produce all aid in reducing depression, anxiety, and stress.

...it's great for beginners.
Favorite Container: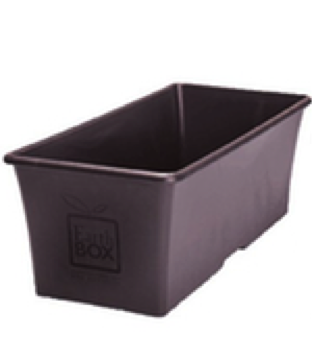 We continue to love the EarthBox® for its simplicity and size. While not all vegetables can be grown in an Earthbox®, it has the depth to accommodate plenty of fall crops like carrots, radishes, spinach, kale, beans, and beets.
One of our favorite sites to strategize your fall crops and containers is the Start A Garden Planner. All you need to do is input your zip code, whether you will be growing indoor or outdoor, then select whether you know what plant you want to grow or what container you have and the planner does all the work for you to ensure you have the best success in planting in a container. Give it a test drive.
Recipe using home grown tomatoes - Fresh Homemade Pasta Sauce:
Tomatoes are still abundant in many planting zones right now. For those that want to put their tomatoes to use on a delicious homemade pasta sauce, here's a simple recipe:

12 Roma Tomatoes
12 oz. Tomato Paste
1/2 Onion diced
5 cloves Garlic, minced
3 tbsp fresh Oregano
1 tbsp Italian Seasoning (or fresh basil)
Salt & Pepper to taste

Here's a video from the HKI Youtube channel showing just how easy it is to make homemade pasta sauce with your homegrown tomatoes. You can check it out below.
And if your squash and zucchini are still in production, use zucchini noodles in place of pasta for a full seed to table dinner.
Check out our list of recommended products for Meal Planning and Gardening Here!